Learn More About Our Process
---
Our Chief Creative Officer, or CCO, created a culture which extends to the staff and our clients. More importantly, it forms an individualistic relationship between our project designer and our client. To understand how we work as a media production agency, we asked our content writers to explain our process to the world.
STAGE I: RESEARCH
---
Through a thorough initial consultation handled either in person or over video chat, we will understand your brand and the manpower fueling it. More often than not, the simple discussion of your brand will bring forth new ideas through mutual brainstorming. This is an interesting element which every project coordinator has encountered multiple times before. Once we know the specifics of your target demographic, your scalability, any niches you wish to market to, for example, we can move forward to investigate the market itself. It's crucial we understand your current positioning relative to your market and the tactics and processes of your competitors. Our team uses proprietary software, which provides insight on those exact elements.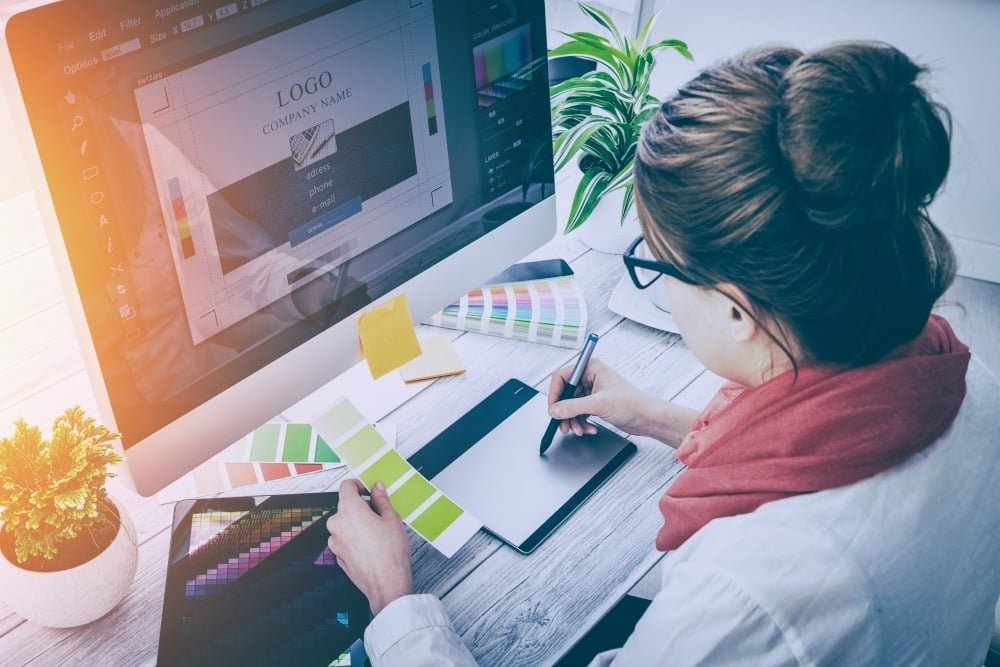 CONSULT
The time to meet, greet and brainstorm and brighten light bulbs.
VISION
One critical element we capture and convey in development to your audience.
SPECIFICS
Understanding your niches, demographics and scalability from day one.
POSITIONING
More than a pin on a map, it's your market position.
STAGE II: DESIGN
---
One thing our designers have learned, it's that design class doesn't teach them anything useful. Principles like applying the skills within trial and error, completing a project and starting back to square one makes for the best designers. It's the process where the design work comes alive. One piece that makes Life Improvement Media valuable are the several pairs of graphic eyes on the same concept. It's collaboration, criticism, critique and in some cases, flat out discussion that makes our team of designers who they are. Everything from the initial intake of your ideas and your brand is considered for the finalized design proofs.
INTAKE
Every point mentioned in the consultation comes into play to create your concept(s).
DRAFTING
Depending on the project, we start with either our keyboards or the whiteboards.
EYES ON
All designers on deck give their honest, unbiased opinions to the room for approval.
REPEAT
Steps 1-3 are repeated to provide our client several design ideas.
STAGE III: PRESENTATION
---
Our designers aim to please clients with several ideas as opposed to one uncompromised creation. Multiple designs let you, the client, see and understand our process. This mutually-beneficial stage is your chance to voice your opinions fully. In turn, your critique tells us whether we need to reevaluate the concept or move forward with last minute edits. Once we are complete, we present you with a polished work of art. We deliver this approach for your approval.
IDEAS
We bring forth multiple proofs to narrow down your best concept.
CRITIQUE
Your chance to share your honest thoughts whether negative or positive.
RE-EVALUATION
If necessary, your critique will guide us to a new direction for changes.
DELIVERY
Finalized project with access (and source files for graphic projects).
EVALUATION
---
After you've selected your creative direction, we officially launch the project, Helium and all. Depending on the project, we allow a certain amount of time to pass before evaluation the project. Usually, 30 to 90 days elapse, during which time we prepare reports on client usage alongside SEO reporting and analytics. A/B testing--experimenting with the best practices for user interaction and experience--plays a role as well. During this phase, we discuss the various ongoing monthly maintenance options and what we call a "re-analysis" of the project. We examine if what we built for you works to the best of its ability. If by chance, it does not, our team reconvenes to determine how to improve upon its current state. Lastly, it is during this final fourth stage where we use the same software to run a secondary report and compare you to your competition.
LAUNCH
A soft launch wherein the end users become more acclimated to ... you!
TIMELINE
The 30 to 90 days that elapse which we consider a beta-testing phase.
RE-ANALYSIS
We ask ourselves: "Have we achieved maximum altitude for your project?"
REPORTING
Comparing and contrasting your business now vs. the competition.
OUR SERVICES
A little something for everyone
#WEB DEVELOPMENT
Using exclusively WordPress foundations sprinkled with basic HTML/CSS, the websites and landing pages we create will definitely exceed your expectations. Every aspect of your new website is completely customizable; each detail is carefully considered during the design stage. We have the capacity to incorporate eCommerce and email marketing to your website project. Whether your project is 5 pages or 25 pages, we can build the perfect website! Our services also include hosting, email servers, and domain registration.
#SEO
Our extensive and ethical approach to Search Engine Optimization (SEO) will rank your website highly on all of the major search engines for organic growth and discovery.
#COPYWRITING
With our talented staff of writers, we can write content for your website, radio, TV, video commercial, promotional products, print media, social networking profiles or any other medium of your choice.
#SOCIAL MEDIA
Even in 2017 many businesses have yet not tapped into their full potential by utilizing the proper social media platforms. With so much social noise, business owners won't reach their goals with the occasional Facebook post. The beauty of social media is it generates high return for a budget-friendly investment. The key is consistency and we pride ourselves on being the keyholders.
#PHOTOGRAPHY
Our mobile photography studio can accommodate any gathering, whether it's a social event, theatrical production, professional or business setting. Using state-of-the-art studio and editing equipment, we can ensure your booking is flawless. We can also provide a fun photo-booth for your next big event!
#BUSINESS CONSULTING
Some clients come to us without direction asking for advice, which is why we've added business consulting into our repertoire. Through the course of an in-depth consultation, we can provide marketing strategies, the best tools to use and the best practices in your industry. Aside from creating business plans, risk-cost assessments and technology management, our staff can also analyze your corporate image to ensure synergy across all facets of your business.
#GRAPHIC DESIGN
Unique and visually-stunning graphics created with the latest Adobe Creative Suite will set your business apart from the competition. Through local and national printing product companies, we're able to feature your personalized logos and designs on a broad range of products including, but not limited to: banners, web elements, billboards, promotional materials, business cards, postcards, flyers and door hangers.
#AUDIO PRODUCTION
By way of our internal recording studio, we can produce commercials, voice-overs, interviews, audio books, mastered music tracks, jingles, CD recording, and telephone on-hold messages and waiting music.
#VIDEO PRODUCTION
People are visual creatures, which makes the video production possibilities endless! We can produce full-length infomercials, commercials, music videos, informational webinars, on-location event coverage, parties, educational tutorials, corporate videos, internet viral videos, personalized holiday messages, and testimonials.
#LIVE VIDEO
With the surge in live streaming popularity, many brands are using this element to market, advertise and grow their audience. We believe it's a valuable resource to utilize and we can setup a live video stream at your next event, whether it's business, professional or a product reveal.
#PODCASTING
Life Improvement Media Group owns the Helium Radio Network, home to Life Improvement Radio and the newly rebranded Helium Radio After Dark. Both stations are heard worldwide with over one million listeners annually. Whether your desire is advertising, sponsoring, guest appearances, or hosting your very own show, we can set you up for success in podcasting!
#PRINTING & PROMO
What sets us apart from our marketing competitors is owning our own printing company! WePrint365.com is your one-stop shop for all your printing needs. Our printing services encompass more than business cards and flyers—we can handle full scale duplication and photocopying as well as promotional products such as t-shirts, pens, water bottles, vinyl banners, and stickers.
#LIVE EVENTS
By utilizing all of our unique services, we can cover an event from start to finish! Our employees serve as photographers, videographers, event crew, sound engineers, stage crew, logistics officers, bands, emcees, caterers, and more!
#DIRECTORY LISTING
Life Improvement Directories is an online resource we created and use to specifically list your business online to be further discovered by your clientele and/or audience!
#LEAD GENERATION
The latest addition to our repertoire are custom generated lead lists. Do you strictly need names and email addresses? We can provide. If you need names, email address and phone numbers, we can provide! Give us your parameters, your desired location, your number of leads, qualified or unqualified and 48 hours and we will bring your leads to you!
#WHITE LABEL
Are you a one-man shop or smaller marketing company who can't yet afford a full team? Partner with our media coordinator team to purchase any services we offer at a discounted wholesale rate. Inquire within for more details!
Our happy past and present Clients
Listen to the best performance evaluations we have to share!
Over the past few months, my traffic has skyrocketed. Considering my website is fairly new, I'm seeing some really good traction. Erik and his team are very knowledgeable and helpful. They helped me design a very professional website; they're investing time and effort into my SEO and writing articles. Simply put, they are a one-stop shop. They help small businesses get off the ground as well as established companies who want to take their business to the next level. I love this company and all they do!
Mladenko Mike Karac
Erik is a master marketer and in touch with today's cutting edge media market. Having created Life Improvement Radio well before it was considered "mainstream" shows he is ahead of the curve in what is coming next, and knows how to get your message out there to the masses. As a business man I trust his advice and look forward to long years collaborating with him on all future projects together...
MIke Trzinski
Erik Remmel brings qualities to the table that entire marketing teams in "Corporate America" cannot collectively offer on their best day. Erik's style is fresh, clean, crisp, professional and consistent and I love it. He adds incredible value to everything we do from marketing, communicating, supporting, and selling in a highly competitive marketplace.
Al Seyfer
Life Improvement Media Group is a great company and provides awesome customer service.
Bob Bruner
Erik did an amazing job creating Life Improvement Radio. In an era when the major media is focused on negative things, he has built a outlet for broadcasting only positive information to improve people's lives. As a guest on their entrepreneur show and social media show, I have seen first-hand how dedicated Erik's team is to motivating, uplifting and educating people to be their "better selves." I highly recommend partnering with Erik.
Dan Sherman
Erik will help you grow your business from the ground to the top . You one stop shop for all your media needs!
Chuck Bryant
I've been a host on Life Improvement Radio for several months now and couldn't be happier. Erik and the whole crew are professional, community minded and incredibly helpful. I have zero radio experience and they're incredibly patient and always have valuable tips for me that make my program better. The show itself is a great way to promote my literary arts organization, Wordier Than Thou, and while showcasing the area's burgeoning literary scene. I highly recommend working with Life Improvement Media Group.
Tiffany Razzano
Amazing company, really puts your dreams into a reality. The insight and experience these guys have is exactly what I needed to get the word out about my company, and they even made sure it was within my budget. I'm contacting Facebook right now, trying to get them to add a sixth star, because they really deserve it.
Victor Dell
Collaborate with us on your next project!
---
Let us know below how we can turn your problems into solutions.