MEET LIMG, A COMPANY OF
DESIGNERS · WEB DEVELOPERS · SOCIABILITY EXPERTS · MARKETERS
Hello! We are Life Improvement Media!
---
It's time for your business to enjoy the view because there's no place like the top!
At Life Improvement Media Group, Inc., we specialize in comprehensive marketing and media services.
Regardless of your business goals, we have the talent in place to execute! Let's talk some specifics, in no order!
Facebook Ads | Brand Strategy | Adwords Campaigns | Live Radio Shows | Graphic Design | WordPress Landing Pages | eCommerce Websites | Recorded Podcasts | SEO | Customized Lead Generation
Explore our new website to learn more about our staff, our services and our portfolio of happy clients!
Elegant solutions for any size business
ALWAYS DELIVERING WITH MEANING
Fueled by WordPress and many cups of espresso. Engineered on the latest mac OS with plugins and customizations for days!
Uniqueness2: one piece or soup to nuts (without the shells). Bring the spoon; we'll feed your brand with consistency!
From high-res pixels to picas to digital or printed mediums. More than Photoshop, Procreate and PicMonkey!
Analytics for the likes. Data for the comments. Content in the short game. Strategy for the long-term.
Our portfolio flows with inspiration you can see
EXPERIENCE CREATIVITY INSPIRATION PASSION
National brands we've worked with
STRIVING TO EXCEED SATISFACTION
Learn More About Our Process
---
Our Chief Creative Officer, or CCO, created a culture which extends to the staff and our clients. More importantly, it forms an individualistic relationship between our project designer and our client. To understand how we work as a media production agency, we asked our content writers to explain our process to the world.
STAGE I: RESEARCH
---
Through a thorough initial consultation handled either in person or over video chat, we will understand your brand and the manpower fueling it. More often than not, the simple discussion of your brand will bring forth new ideas through mutual brainstorming. This is an interesting element which every project coordinator has encountered multiple times before. Once we know the specifics of your target demographic, your scalability, any niches you wish to market to, for example, we can move forward to investigate the market itself. It's crucial we understand your current positioning relative to your market and the tactics and processes of your competitors. Our team uses proprietary software, which provides insight on those exact elements.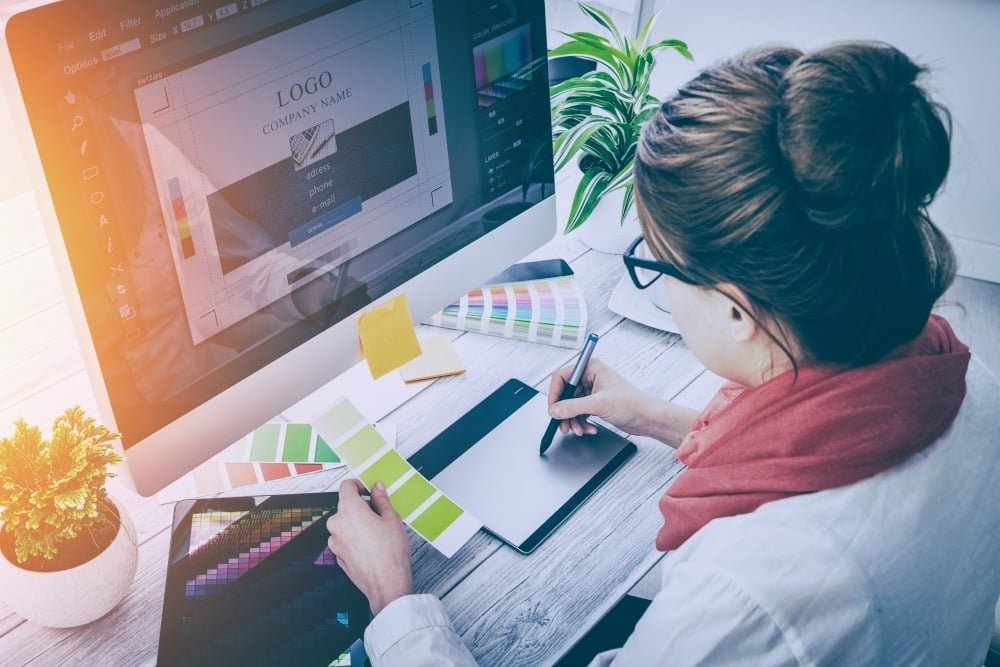 CONSULT
The time to meet, greet and brainstorm and brighten light bulbs.
VISION
One critical element we capture and convey in development to your audience.
SPECIFICS
Understanding your niches, demographics and scalability from day one.
POSITIONING
More than a pin on a map, it's your market position.
STAGE II: DESIGN
---
One thing our designers have learned, it's that design class doesn't teach them anything useful. Principles like applying the skills within trial and error, completing a project and starting back to square one makes for the best designers. It's the process where the design work comes alive. One piece that makes Life Improvement Media valuable are the several pairs of graphic eyes on the same concept. It's collaboration, criticism, critique and in some cases, flat out discussion that makes our team of designers who they are. Everything from the initial intake of your ideas and your brand is considered for the finalized design proofs.
INTAKE
Every point mentioned in the consultation comes into play to create your concept(s).
DRAFTING
Depending on the project, we start with either our keyboards or the whiteboards.
EYES ON
All designers on deck give their honest, unbiased opinions to the room for approval.
REPEAT
Steps 1-3 are repeated to provide our client several design ideas.
STAGE III: PRESENTATION
---
Our designers aim to please clients with several ideas as opposed to one uncompromised creation. Multiple designs let you, the client, see and understand our process. This mutually-beneficial stage is your chance to voice your opinions fully. In turn, your critique tells us whether we need to reevaluate the concept or move forward with last minute edits. Once we are complete, we present you with a polished work of art. We deliver this approach for your approval.
IDEAS
We bring forth multiple proofs to narrow down your best concept.
CRITIQUE
Your chance to share your honest thoughts whether negative or positive.
RE-EVALUATION
If necessary, your critique will guide us to a new direction for changes.
DELIVERY
Finalized project with access (and source files for graphic projects).
EVALUATION
---
After you've selected your creative direction, we officially launch the project, Helium and all. Depending on the project, we allow a certain amount of time to pass before evaluation the project. Usually, 30 to 90 days elapse, during which time we prepare reports on client usage alongside SEO reporting and analytics. A/B testing--experimenting with the best practices for user interaction and experience--plays a role as well. During this phase, we discuss the various ongoing monthly maintenance options and what we call a "re-analysis" of the project. We examine if what we built for you works to the best of its ability. If by chance, it does not, our team reconvenes to determine how to improve upon its current state. Lastly, it is during this final fourth stage where we use the same software to run a secondary report and compare you to your competition.
LAUNCH
A soft launch wherein the end users become more acclimated to ... you!
TIMELINE
The 30 to 90 days that elapse which we consider a beta-testing phase.
RE-ANALYSIS
We ask ourselves: "Have we achieved maximum altitude for your project?"
REPORTING
Comparing and contrasting your business now vs. the competition.
The Faces Behind LIMG
Meet our Media and Project Management Team
Erik Remmel
Chief Creative Officer
Erik, the head honcho and head coder, instilled Life Improvement Media Group with his clear vision, grounded values and positive culture. Recently, he became a fan of Thai food. Erik stays active, yet when he's not networking or driving sales, he handles the coffee and grocery runs for the team.
Justin Ulrich
Digital Marketing Strategist
Justin implements detailed content creation, design, and project management and communicates high-level strategy with our client contacts. He gets in the zone with Spotify's "focus" playlists and personal development through GaryVee. As a published writer, GANGER represents his first fictional novel! Learn more at justinjulrich.com.
Corynne Holder
Digital Learning & Engagement Strategist
As a certified Six Sigma Green Belt, Corynne brings comprehensive experience in process improvement to our team. She specializes in creating corporate and consumer learning to drive program and platform engagement. Her background grew from studying human development, learning theory, and instructional design techniques. She is fluent in "Corporate America" and "Starbucks."
Penny Doodle
Mascot & Bouncer
Penny is an 2 year old Golden-Doodle and the official Life Improvement Media mascot and bouncer. She is tasked with jumping in our laps and barking loudly at the slightest noises in the office—usually when someone is on the phone. Her new favorite foods are apple slices and the staff's socks.
Follow the Industry through our Eyes
Soar your knowledge with our latest blogs
In this episode of the Life Improvement Media blog, we're talking websites. And not just for the heck of it. In case you've missed all our weekly social media posts, we're giving away a FREE website to one lucky winner who enrolls in our promotional giveaway. Your...
read more
Marketing and Media Production Services
backed by 12 Years of Experience
Choose the strongest verticals to best fit your business
Propel Your Social
Packages Starting At
Content creation

Schedule posting & management

Analytical reporting

Any platform
Podcasting
Packages Starting At
Syndication, live & recorded shows

Setup fees & hosting are not included

Broadcast from anywhere

Marketing support
White hat only

Google partners

Long term strategies

Rank quickly
Web Development
Packages Starting At
Fit any budget

Customized websites

Mobile Optimization

SEO & maintenance options
Our happy past and present Clients
Listen to the best performance evaluations we have to share!
Over the past few months, my traffic has skyrocketed. Considering my website is fairly new, I'm seeing some really good traction. Erik and his team are very knowledgeable and helpful. They helped me design a very professional website; they're investing time and effort into my SEO and writing articles. Simply put, they are a one-stop shop. They help small businesses get off the ground as well as established companies who want to take their business to the next level. I love this company and all they do!
Mladenko Mike Karac
Erik is a master marketer and in touch with today's cutting edge media market. Having created Life Improvement Radio well before it was considered "mainstream" shows he is ahead of the curve in what is coming next, and knows how to get your message out there to the masses. As a business man I trust his advice and look forward to long years collaborating with him on all future projects together...
MIke Trzinski
Erik Remmel brings qualities to the table that entire marketing teams in "Corporate America" cannot collectively offer on their best day. Erik's style is fresh, clean, crisp, professional and consistent and I love it. He adds incredible value to everything we do from marketing, communicating, supporting, and selling in a highly competitive marketplace.
Al Seyfer
Life Improvement Media Group is a great company and provides awesome customer service.
Bob Bruner
Erik did an amazing job creating Life Improvement Radio. In an era when the major media is focused on negative things, he has built a outlet for broadcasting only positive information to improve people's lives. As a guest on their entrepreneur show and social media show, I have seen first-hand how dedicated Erik's team is to motivating, uplifting and educating people to be their "better selves." I highly recommend partnering with Erik.
Dan Sherman
Erik will help you grow your business from the ground to the top . You one stop shop for all your media needs!
Chuck Bryant
I've been a host on Life Improvement Radio for several months now and couldn't be happier. Erik and the whole crew are professional, community minded and incredibly helpful. I have zero radio experience and they're incredibly patient and always have valuable tips for me that make my program better. The show itself is a great way to promote my literary arts organization, Wordier Than Thou, and while showcasing the area's burgeoning literary scene. I highly recommend working with Life Improvement Media Group.
Tiffany Razzano
Amazing company, really puts your dreams into a reality. The insight and experience these guys have is exactly what I needed to get the word out about my company, and they even made sure it was within my budget. I'm contacting Facebook right now, trying to get them to add a sixth star, because they really deserve it.
Victor Dell
FEEL FREE TO Brainstorm with US.